Spring is finally here and I cannot wait for warmer weather and be able to take my reading outdoors. For now, I'll settle for warmer weather so I can in the least open my windows! C'mon Spring!  Anyway, here we have it, a list of the titles I will be digging my nose in this month. Any on or find their way to your to-be-read list?
Our Little Secret by Roz Nay
Synopsis: Roz Nay's Our Little Secret is a twisted tale of love, pain, and revenge that will stay with the reader long after they turn the last page.
They say you never forget your first love. What they don't say though, is that sometimes your first love won't forget you…
A police interview room is the last place Angela expected to find herself today. It's been hours, and they keep asking her the same inane questions over and over. "How do you know the victim?" "What's your relationship with Mr. Parker?" Her ex's wife has gone missing, and anyone who was close to the couple is a suspect. Angela is tired of the bottomless questions and tired of the cold room that stays the same while a rotating litany of interrogators changes shifts around her. But when criminologist Novak takes over, she can tell he's not like the others. He's ready to listen, and she knows he'll understand. When she tells him that her story begins a decade before, long before Saskia was in the picture, he gives her the floor.
A twenty-something young professional, Angela claims to have no involvement. How could she? It's been years since she and H.P., Mr. Parker that is, were together. As her story unfolds, it deepens and darkens. There's a lot to unpack… betrayal, jealousy, and a group of people who all have motives for retribution. If Angela is telling the truth, then who's lying?
How amazing does this one sound? This book is at the TOP of my list! A big thank you to St. Martin's Press for providing the advanced reader's copy of this novel. 
Expected publication: April 17th 2018 
All the Beautiful Lies by Peter Swanson
Synopsis: Harry Ackerson has always considered his step-mother Alice to be sexy and beautiful, in an "other worldly" way. She has always been kind and attentive, if a little aloof in the last few years.
Days before his college graduation, Alice calls with shocking news. His father is dead and the police think it's suicide. Devastated, he returns to his father's home in Maine. There, he and Alice will help one another pick up of the pieces of their lives and uncover what happened to his father.
Shortly after he arrives, Harry meets a mysterious young woman named Grace McGowan. Though she claims to be new to the area, Harry begins to suspect that Grace may not be a complete stranger to his family. But she isn't the only attractive woman taking an interest in Harry. The sensual Alice is also growing closer, coming on to him in an enticing, clearly sexual way.
Mesmerized by these two women, Harry finds himself falling deeper under their spell. Yet the closer he gets to them, the more isolated he feels, disoriented by a growing fear that both women are hiding dangerous—even deadly—secrets . . . and that neither one is telling the truth.
Most books have been coming out lately include the word "Lie" in their title. Anyone else notice that? Peter Swanson's beautiful lies wont keep me away thought and I'm excited to tear into this one! A big thank you to William Morrow for providing the advanced reader's copy of this novel. 
Publication: April 3rd 2018 
Wicked River by Jenny Milchman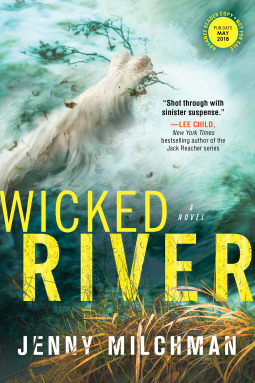 Synopsis: Six million acres of Adirondack forest separate Natalie and Doug Larson from civilization. For the newlyweds, an isolated, back country honeymoon seems ideal: a chance to start their lives together with an adventure, on their own. But just as Natalie and Doug begin to explore the dark interiors of their own hearts, as well as the depths of their love for each other, it becomes clear that they are not alone in the woods.
Because six million acres makes it easy for the wicked to hide. And even easier for someone to go missing for good.
As they struggle with the worst the wilderness has to offer, a man watches them, wielding the forest like a weapon. And once they are near his domain, he will do everything in his power to make sure they never walk out again.
Jenny was so sweet to connect with me on this title. Living in the middle of the woods, this one will make me feel right at home. A big thank you to Sourcebooks Landmark for providing the advanced reader's copy of this novel. 
Expected publication: May 1st 2018
How to Raise Kind Kids: And Get Respect, Gratitude, and a Happier Family in the Bargain by Thomas Lickona
Synopsis: Can you teach a child to be kind?
This vital question is taking on a new urgency as our culture grows ever more abrasive and divided.
We all want our kids to be kind. But that is not the same as knowing what to do when you catch your son being unkind. A world-renowned developmental psychologist, Dr. Thomas Lickona has led the character education movement in schools for forty years. Now he shares with parents the vital tools they need to bring peace and foster cooperation at home. Kindness doesn't stand on its own. It needs a supporting cast of other essential virtues–like courage, self-control, respect, and gratitude.
With concrete examples drawn from the many families Dr. Lickona has worked with over the years and clear tips you can act on tonight, How to Raise Kind Kids will help you give and get respect, hold family meetings to tackle persistent problems, discipline in a way that builds character, and improve the dynamic of your relationship with your children while putting them on the path to a happier and more fulfilling life.
You often hear me discussing my 20-month old on here and, as a first time mother, I love reading parenting books. Especially one such as this book. I hope that Dr. Lickona offers some great insight and that I help my son to be a kind child and adult. A big thank you to Penguin Books for providing the advanced reader's copy of this novel. 
Expected publication: April 10th 2018
Crimson Lake (Crimson Lake #1) by Candice Fox
Synopsis: 
How do you move on when the world won't let you?
12:46: Claire Bingleystands alone at a bus stop
12:47: Ted Conkaffey parks his car beside her
12:52: The girl is missing . . .
Six minutes in the wrong place at the wrong time—that's all it took to ruin Sydney detective Ted Conkaffey's life. Accused but not convicted of a brutal abduction,Ted is now a free man—and public enemy number one. Maintaining his innocence, he flees north to keep a low profile amidst the steamy, croc-infested wetlands of Crimson Lake.
There, Ted's lawyer introduces him to eccentric private investigator Amanda Pharrell, herself a convicted murderer. Not entirely convinced Amanda is a cold-blooded killer, Ted agrees to help with her investigation, a case full of deception and obsession, while secretly digging into her troubled past. The residents of Crimson Lake are watching the pair's every move . . . and the town offers no place to hide.
Candice has authored some books along side one of my favorites, James Patterson. I'm excited to read one of her own and hopefully start a new series with her! A big thank you to Forge Books for providing me with a finished copy of this novel. 
Publication: March 6th 2018
School for Psychics (School for Psychics #1) by K.C. Archer
Synopsis: An entrancing new series starring a funny, impulsive, and sometimes self-congratulatory young woman who discovers she has psychic abilities—and then must decide whether she will use her skills for good or…not.
Teddy Cannon isn't your typical twenty-something woman. She's resourceful. She's bright. She's scrappy. She can also read people with uncanny precision. What she doesn't realize: she's actually psychic.
When a series of bad decisions leads Teddy to a run-in with the police, a mysterious stranger intervenes. He invites her to apply to the School for Psychics, a facility hidden off the coast of San Francisco where students are trained like Delta Force operatives: it's competitive, cutthroat, and highly secretive. They'll learn telepathy, telekinesis, investigative skills, and SWAT tactics. And if students survive their training, they go on to serve at the highest levels of government, using their skills to protect America, and the world.
In class, Teddy befriends Lucas, a rebel without a cause who can start and manipulate fire; Jillian, a hipster who can mediate communication between animals and humans; and Molly, a hacker who can apprehend the emotional state of another individual. But just as Teddy feels like she's found where she might belong, strange things begin to happen: break-ins, missing students, and more. It leads Teddy to accept a dangerous mission that will ultimately cause her to question everything—her teachers, her friends, her family, and even herself.
Set in a world very much like our own, School for Psychics is the first book in a stay-up-all night series.
Thank you Dana for reaching out to me on this. I have a great interests in psychics and this book intrigued me. A big thank you to Simon Schuster for providing the advanced reader's copy of this novel. 
Publication: April 3rd 2018
Julie's Bookshelf is a participant in the Amazon Services LLC Associates Program, an affiliate advertising program designed to provide a means for sites to earn advertising fees by advertising and linking to amazon.com. This in no way affects my opinion of the books found on this blog.