March Madness is what I would call my TBR this month! I'm going to limit this post and only highlight some of the titles that are on my March to-be-read list. If you have also added one the these book, let discuss!
Not That I Could Tell by Jessica Strawser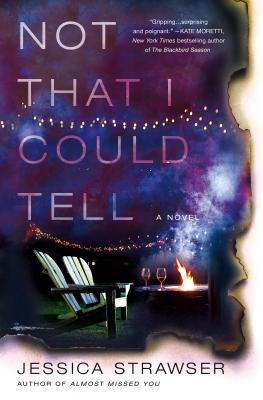 Synopsis:
When a group of neighborhood women gathers, wine in hand, around a fire pit where their backyards meet one Saturday night, most of them are just ecstatic to have discovered that their baby monitors reach that far. It's a rare kid-free night, and they're giddy with it. They drink too much, and the conversation turns personal.
By Monday morning, one of them is gone.
Everyone knows something about everyone else in the quirky small Ohio town of Yellow Springs, but no one can make sense of the disappearance. Kristin was a sociable twin mom, college administrator, and doctor's wife who didn't seem all that bothered by her impending divorce—and the investigation turns up more questions than answers, with her husband, Paul, at the center. For her closest neighbor, Clara, the incident triggers memories she thought she'd put behind her—and when she's unable to extract herself from the widening circle of scrutiny, her own suspicions quickly grow. But the neighborhood's newest addition, Izzy, is determined not to jump to any conclusions—especially since she's dealing with a crisis of her own.
As the police investigation goes from a media circus to a cold case, the neighbors are forced to reexamine what's going on behind their own closed doors—and to ask how well anyone really knows anyone else.
A big thank you to St. Martin's Press for providing the advanced reader's copy of this novel. 
Expected publication: March 27th 2018
Sunburn by Laura Lippman
Synopsis: One is playing a long game. But which one?
They meet at a local tavern in the small town of Belleville, Delaware. Polly is set on heading west. Adam says he's also passing through.
Yet she stays and he stays—drawn to this mysterious redhead whose quiet stillness both unnerves and excites him. Over the course of a punishing summer, Polly and Adam abandon themselves to a steamy, inexorable affair. Still, each holds something back from the other—dangerous, even lethal, secrets that begin to accumulate as autumn approaches, feeding the growing doubts they conceal.
Then someone dies. Was it an accident, or part of a plan? By now, Adam and Polly are so ensnared in each other's lives and lies that neither one knows how to get away—or even if they want to. Is their love strong enough to withstand the truth, or will it ultimately destroy them?
Something—or someone—has to give.
Which one will it be?
THIS I have been anticipating and heard so much positive feedback on. I will be joining the blog tour hosted by TLC Book Tours. Keep a look out for my stop and review on March 14th! A big thank you to William Morrow and Trish at TLC Book tours for providing the finished copy of this novel. 
Publication: February 20th 2018

Let Me Lie by Clare Macintosh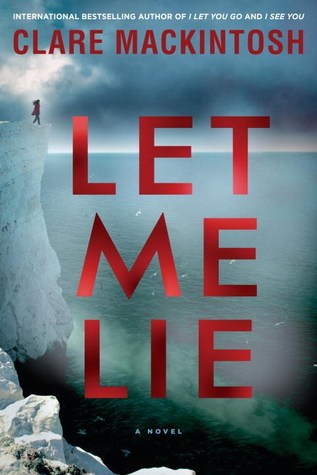 Synopsis:
Two years ago, Tom and Caroline Johnson committed suicide, one seemingly unable to live without the other. Their adult daughter, Anna, is struggling to come to terms with her parents' deaths, unable to comprehend why they chose to end their lives. Now with a young baby herself, she feels her mother's presence keenly and is determined to find out what really happened to her parents. But as Anna digs up the past, someone is trying to stop her. She soon learns that nothing is as it seemed.
Oh, Claire Mackintosh! A suspense novel with police procedural realm? I'm all over it. I have enjoyed Claire's other works and she quite honestly is the queen of plot twists. A big thank you to Berkley for providing me with an advanced reader's copy of this novel. 
Expected publication: March 13th 2018

The Manson Woman and Me by Nikki Meredith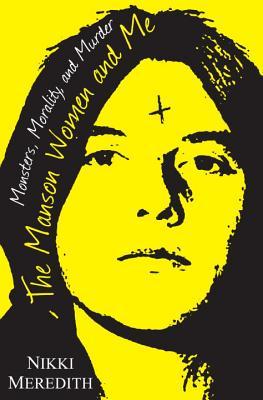 Synopsis:
In the summer of 1969, Leslie Van Houten and Patricia Krenwinkel carried out horrific acts of butchery on the orders of the charismatic cult leader Charles Manson. At their murder trial the following year, lead prosecutor Vincent Bugliosi described the two so-called Manson Women as "human monsters." But to anyone who knew them growing up, they were bright, promising girls, seemingly incapable of such an unfathomable crime.
Award-winning journalist Nikki Meredith began visiting Van Houten and Krenwinkel in prison to discover how they had changed during their incarceration. The more Meredith got to know them, the more she was lured into a deeper dilemma: What compels "normal" people to do unspeakable things?
The author's relationship with her subjects provides a chilling lens through which we gain insight into a particular kind of woman capable of a particular kind of brutality. Through their stories, Nikki Meredith takes readers on a dark journey into the very heart of evil.
Anyone shocked to see this on the list? Nope? Okay, cool. A big thank you to Citadel Press for providing the advanced reader's copy of this book. 
Expected publication: March 27th 2018
Bachelor Nation by Amy Kaufman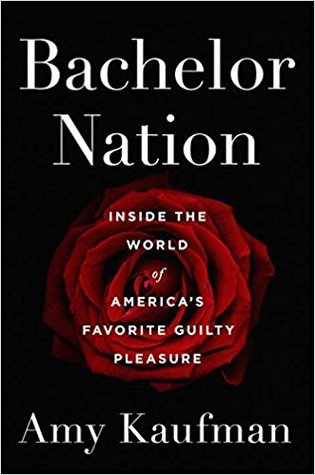 Synopsis:
The first definitive, unauthorized, behind-the-scenes cultural history of the Bachelor franchise, America's favorite guilty pleasure
For fifteen years and thirty-five seasons, the Bachelor franchise has been a mainstay in American TV viewers' lives. Since it premiered in 2002, the show's popularity and relevance has only grown–more than eight million viewers tuned in to see the conclusion of the most recent season of The Bachelor.
The iconic reality television show's reach and influence into the cultural zeitgeist is undeniable. Bestselling writers and famous actors live tweet about it. Die-hard fans–dubbed "Bachelor Nation"–come together every week during each season to participate in fantasy leagues and viewing parties.
Bachelor Nation is the first behind-the-scenes, unauthorized look into the reality television phenomenon. Los Angeles Times journalist Amy Kaufman is a proud member of Bachelor Nation and has a long history with the franchise–ABC even banned her from attending show events after her coverage of the program got a little too real for its liking. She has interviewed dozens of producers, contestants, and celebrity fans to give readers never-before-told details of the show's inner workings: what it's like to be trapped in the mansion "bubble"; dark, juicy tales of producer manipulation; and revelations about the alcohol-fueled debauchery that occurs long before the fantasy suite.
Kaufman also explores what our fascination means, culturally: what the show says about the way we view so-called ideal suitors, our subconscious yearning for fairy-tale romance, and how this enduring television show has shaped society's feelings about love, marriage, and feminism by appealing to a marriage plot that's as old as Jane Austen.
When I heard of this book I was like, 'Gimme, gimme, gimme!!' and Amy was sweet enough to send me a copy.  After one of the most dramatic season finales in the history of the show the sales for this book have probably skyrocketed! As it should because, JUICY! I have been obsessed  with this snow from its start and guilty pleasure was most certainly the correct way to describe the Bachelor empire. A big thank you to Amy and Dutton Books for providing a finished copy of this book. 
Publication: March 6th 2018
Eye of the Moon by Ivan Obolensky
Synopsis:
Johnny's legendary socialite Aunt Alice mysteriously died while reading the Egyptian Book of the Dead when he and Percy were ten. They have been kept in the dark about that night ever since…
Twenty years later, they are reunited, along with family and guests, for a weekend house party at Rhinebeck, the sumptuous estate once owned by Alice.
But Rhinebeck holds more than just childhood memories.
From the family butler, they learn that Alice's story is far darker than anticipated, and will impact all their lives, particularly Percy's, before the weekend concludes.
All who attend are ensnared in a surprising web of mystery, Egyptian occultism, sumptuous elegance, and intrigue, where family members, guests, and even the staff have their own agendas, and nothing is what it seems.
This Gothic mystery is complex and sophisticated. I will be joining the blog tour for this one as well and my review for the same will be offered on my blog tomorrow!  A big thank you to Ivan Obolensky for providing the advanced reader's copy of this novel. 
Publication: February 6th 2018
If I Die Tonight by Alison Gaylin
Synopsis:
Reminiscent of the bestsellers of Laura Lippman and Harlan Coben—with a dose of Big Little Lies or Stranger Things—an absorbing, addictive tale of psychological suspense from the author of the highly acclaimed and Edgar Award-nominated What Remains of Me and the USA Today bestselling and Shamus Award-winning Brenna Spector series, in which a seemingly open-and-shut police case with a clear-cut hero and villain turns out to be anything but simple
Late one night in the quiet Hudson Valley town of Havenkill, a distraught woman stumbles into the police station—and lives are changed forever.
Aimee En, once a darling of the '80s pop music scene, claims that a teenage boy stole her car, then ran over another young man who'd rushed to help.
As Liam Miller's life hangs in the balance, the events of that fateful night begin to come into focus. But is everything as it seems?
The case quickly consumes social media, transforming Liam, a local high school football star, into a folk hero, and the suspect, a high school outcast named Wade Reed, into a depraved would-be killer. But is Wade really guilty? And if he isn't, why won't he talk?
Told from a kaleidoscope of viewpoints—Wade's mother Jackie, his younger brother Connor, Aimee En and Pearl Maze, a young police officer with a tragic past, If I Die Tonight is a story of family ties and dark secrets—and the lengths we'll go to protect ourselves.
This will be my first from Alison Gaylin. The synopsis definitely pulls me in, especially with the hint of Stranger Things undertones. I'm excited to see where this story leads. A big thank you William Morrow Paperbacks for providing the advanced reader's copy of this novel. 
Publication: March 6th 2018 
The Broken Girls by Simone St. James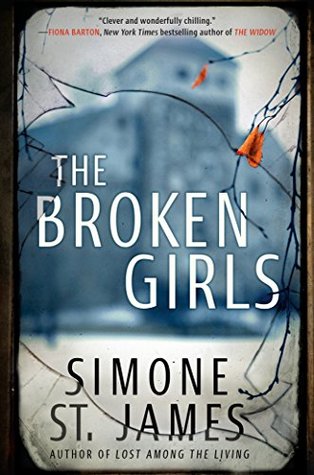 Synopsis:
The "clever and wonderfully chilling" (Fiona Barton) suspense novel from the award-winning author of The Haunting of Maddy Clare…
Vermont, 1950. There's a place for the girls whom no one wants–the troublemakers, the illegitimate, the too smart for their own good. It's called Idlewild Hall. And in the small town where it's located, there are rumors that the boarding school is haunted. Four roommates bond over their whispered fears, their budding friendship blossoming–until one of them mysteriously disappears. . . .
Vermont, 2014. As much as she's tried, journalist Fiona Sheridan cannot stop revisiting the events surrounding her older sister's death. Twenty years ago, her body was found lying in the overgrown fields near the ruins of Idlewild Hall. And though her sister's boyfriend was tried and convicted of murder, Fiona can't shake the suspicion that something was never right about the case.
When Fiona discovers that Idlewild Hall is being restored by an anonymous benefactor, she decides to write a story about it. But a shocking discovery during the renovations will link the loss of her sister to secrets that were meant to stay hidden in the past–and a voice that won't be silenced. . . .
New flash: I'm obsessed with reading books set close to home. While this novel has a large mix of genres, some I don't typically read, the mystery in its blurb has me so intrigued. A big thank you to Berkley for providing a finished copy of this novel. 
Publication: March 20th 2018
Sometimes I Lie by Alice Feeney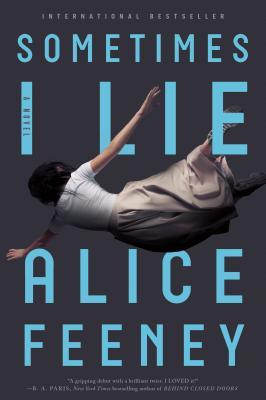 Synopsis:
My name is Amber Reynolds. There are three things you should know about me:
1. I'm in a coma.
2. My husband doesn't love me anymore.
3. Sometimes I lie.
Amber wakes up in a hospital. She can't move. She can't speak. She can't open her eyes. She can hear everyone around her, but they have no idea. Amber doesn't remember what happened, but she has a suspicion her husband had something to do with it. Alternating between her paralyzed present, the week before her accident, and a series of childhood diaries from twenty years ago, this brilliant psychological thriller asks: Is something really a lie if you believe it's the truth?
When Alice Feeney releases any title how do you not read it? Seriously, it's Alice Feeney. A big thank you to Flatiron Books for providing the advanced reader's copy of this novel. 
Publication: March 13th 2018
Julie's Bookshelf is a participant in the Amazon Services LLC Associates Program, an affiliate advertising program designed to provide a means for sites to earn advertising fees by advertising and linking to amazon.com. This in no way affects my opinion of the books found on this blog.